Blind cleaning is done using an ultrasonic cleaning system, which can be described as using sound vibrations, hot water and engineered, biodegradable soaps that clean all types of window coverings. The process is highly effective and surprisingly gentle and has many applications in addition to cleaning window coverings.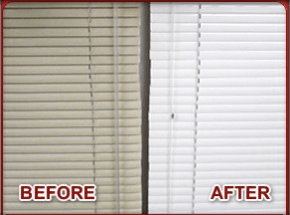 Virtually all materials are safe for use with ultrasonic cleaning. This includes the following:
Mini-blinds
Duette® or honeycomb shades
Faux wood blinds
Verticals
Luminettes®
Silhouettes®
Authentic wood blinds are typically cleaned by hand in order to avoid any warping of the wood due to the use of water in the ultrasonic cleaning process.
We offer Same-Day Service! Your window fashions can be picked up in the morning and installed in the evening. You can also Drop-Off your blinds at our convenient north side location.
Is your blind broken? Don't replace it. Have it repaired for much less!